Latest BrainWashedTeens.com Updates
Nadia Capri
September 13, 2015
Nadia Capri, a sexy Latina with an incredible body, comes in for a life makeover. She's known as the biggest nerd in school and she's tired of it. Plus she's been feeling really horny and doesn't know what to do with it. Her new Master asks her a few questions, taking note of anything that he can tackle when he applies his technique. Nadia is in for quite the awakening. He gets her relaxed. To make sure she's obedient, he makes her stand and moves her limbs around like a doll. He does a few position memory exercises. He's quite talented. She does everything he says. Now for the fun. He goes in deep into her mind and finds the real reason she's having issues: she's scared and a bit uptight. He needs drastic measures to loosen her up. He makes her get on all fours and shoves a huge dildo deep inside her pussy. He wants her to bark like a dog the entire time. The deeper the rubber cock goes, the louder she barks. In no time, she begs her master to push it in deeper. To reinforce her training, he wants to get on the floor and act like a well-behaved puppy. He collars her with a leach and gives her her very own water bowl, even a rubber boner to play with. He makes her roll over, give her paw, even walks her around. He keeps her in the cage for awhile where she begs for cock. She's earned. Her Master lets his sex slave out and pulls his dick out for her to jerk off. She's pretty good at giving handjobs. But he wants his meat in her mouth. She needs to learn how to give a blowjob. If this doesn't solve her problems, we don't know what will. Take a look for yourself. Usually, all the facials given change lives.
Carter Cruise
September 6, 2015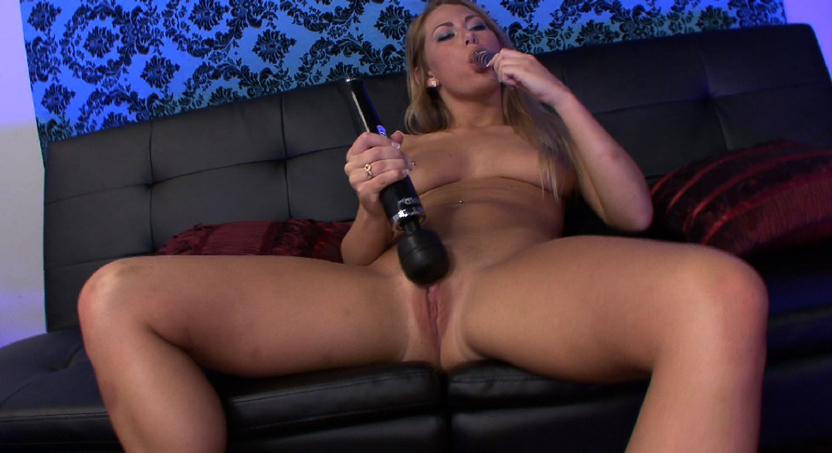 The Doctor's new sex slave is possibly his favorite. He's taken plenty of time training Carter Cruise to become the perfect obedient slut for his horny needs. He's done such a good job. All she has on her mind is pleasing her Master and extracting big loads of cum from his cock wet in her hands. She knows she must be naked when in his presence. She must spread her legs open so he can play with her tempting pussy, maybe drop some lube on it and let her have some fun with a vibrator. He actually got her her very own glass cock to enjoy. She wants to plunge it deep inside twat, hoping it gets his dick stiff enough to stroke on. It works. He has her get on the ground and crawl to him, begging for his cock. She wants it so bad, she does eagerly. She tells him how she loves jerking it with both hands. But if she wants a load of cum to spread across her tits, she has to earn it, which she has no problem doing. She'll do anything for her Master.
JC Simpson
August 30, 2015
One of our favorite porn stars came in for a fun session with our perverted doctor. Thankfully she did since a lot of our fans have been requesting her appearance. What can we say about her. She's blonde, talented and so hot. That's right, JC Simpson came into the studio wanting a training session. There's no way the doctor will let her leave without blowing a few loads and possibly have his place cleaned up. Sounds perfect. He has JC sit down and calms her breathing, clearing her mind, making her susceptible to his commands. The doctor has a thing for zombie French maids. Of course he rather see her beg for his cock, promising her loyalty and body for a taste. She has to clean up first, which she does quickly and efficiently. Watching her work in the uniform will take care of getting you hard for what's to come. JC is so horny for her the Doctor, she'll do anything for her Master's dick. She wants to see it squirt cum, feel it, rub it all over her chest and pussy. He has this slut under his control.
Stacie Andrews
August 23, 2015
Our next client, the blonde hottie Stacie Andrews, has come in seeking help for a problem our perverted doctor hasn't faced before. Stacie has major insecurity issues with her body. Why do the sexiest girls think so differently of themselves? She's smoking hot and her new doctor wants her. The best remedy for Stacie's problem is to explore her kinky side, maybe become an obedient and dick hungry sex slave. He makes her get down on her knees and beg for his cock. Since she's feeling better about herself, she can use that young tight body to make her Master cum. He finally let's her have his cock and orders her to jerk it with a firm grip. He wants to see her pull on her pierced nipples and play with her tasty little pussy. She may not know it, but he's still training her mind to love her body. Every stroke of his dick and rub of her clit, the more confidence she gains. Wondering what will happen when he finally cums all over her bouncy tits? Then watch this video.
The Doctor has one of his regular slaves, the cute and dick hungry Lia Ezra, over to clean up his place. She gladly comes over and changes into this favorite French uniform, slowly pulling it up over her hot young body. She immediately cleans, bending over as often as possible. She knows her Master likes to see up her short skirt. He only wanted her to clean, but seeing her flaunt around in the sexy uniform has gotten him horny. She was hoping it would. He orders she take off her uniform and sit down on the couch, legs spread wide open. He picks up his vibrator and let's the buzzing head running along her suckable nipples, down her tight stomach, to her wet pussy. He hands it to her and she rubs it all over her sweet clit and pussy lips. She gets on her knees and runs the vibrator up her tasty asshole. Her Master has seen enough. He wants his throbbing cock down her throat. She was thinking the same thing. She falls to her knees and begs for his cock. She wants it so bad. He finally let's her have it.
Sofia Vega
August 9, 2015
Poor Sofia Vega. She's come to see our perverted doctor hoping he can help her forget her cheating ex-boyfriend. She's still in love with him and can't stop thinking about him. She's had enough and wants to move on. Becoming a submissive cum whore seems like the perfect solution. Her session involves a few things. He has Sofia strip down and lie on the couch. He feels since her ex cheated, she should have the feeling of infidelity. He puts the image of two guys pounding her tight holes deep in her head, making her body convulse in pleasure. He wants to intensify her experience. He's pulling out his trusty fucking machine. This will really hit the spot. He pops on the biggest dildo he has, ten times bigger than her ex's. He makes her take every inch of his rubber dick, leaving her gaping and satisfied. Her ex could never do that to her. She instantly forgets her ex's name. Being rammed in good has made her cum hungry. Lucky for her, her new Master needs to be drained. She has to hail his cock before she can play with. Of course, he makes her beg for it.
Roxanne Rae, Jessica Robbin
August 2, 2015
Good friends, both so hot and bubbly, Jessica Robbin and Roxanne Rae have come to see what the Doctor can really do. They both don't believe he can train them to be the cock worshiping sex slaves they want to become. Two for the price of one is not bad at all. He's going to have fun with these two. He makes them undress. There's plenty of boobs and ass cheeks to touch, kiss, bite, cum on. Everything bounces around as the girls slip of their clothes. He makes them get down on the floor and hail their new master before beginning the session. He makes them play with themselves, side by side, infatuated with the sound of two sexy women getting off. Of course he makes them walk around like dick hungry zombies, repeating "Yes Master, I will worship your cock". Then that's what he has them do. They both grip his dick and stroke, begging for it the entire time. He orders Roxanne back on the couch and wants to see her fingers disappear into her pussy. Jessica continues to jerk her Master's meat, awaiting his load to blast out. When he's about to cum, he wants both girls in front of him. He has enough jizz for both their faces and jugs. It's going to be a cum bath!
Skyler Green
July 26, 2015
Skyler Green can't cum. Nothing really turns her on anymore. Whenever she has sex, she wants it to end as soon as possible. She's come to the right doctor. The Doctor has Skyler sit down on the recliner, his eyes studying her tight body and cute ass. He has a special place in his groin for hot blondes. She lies perfectly still, awaiting his orders. He hands her a vibrator and demands she rubs it all over her pussy. She does it gladly, setting the wand on high, teasing her tasty clit to the brink of squirting all over herself. Her new master wants to see her on her hands and knees, vibrator still on her soaked pussy. He loves hearing the wet buzzing and a hot babe moaning from pleasure. His dick is ready for attention. It's the final step in solving Skyler's issue. She begs for his cock. Seems she is horny again and ready for hot cum. She wants to show him how deep she can take his dick down her throat. Her master has no problem with that.
Evilyn Fierce
July 19, 2015
Our mad doctor is quite happy to see the pixie beauty Evilyn Fierce on his couch. She's in for a fun experience. Maybe she'll discover something about herself. Of course, he needs to make sure she's completely obedient before moving forward. He makes her believe she came in for a cleaning interview. She gladly tries on his French maid uniform and organizes his office a bit. He likes watching her bend over, peaking up at her little round bottom. He's ready for some fun. He puts a few dirty thoughts in her mind, enough to make her cream and feel on her tight body. He lets her have some fun with his vibrator, squirting her pussy with lube so she can slide it around with ease. Her moans will definitely drive you crazy. When she's had enough, she falls to her knees and begs for her master's cock. Her master can't resist and allows her to pull out his dick. She's cum hungry and he has plenty to fill her up. Now she has the urge to clean more boners.
The next hottie on the couch, the cute Mia Hurley, is excited for her training session. She heard it's quite the experience. The Doctor loves young petite girls with an open mind. He wants to test if she's truly obedient. Her Master takes the opportunity to feel her bouncy tits, his hand crawling up her shorts. She slowly stands and slips off her clothes. Her Master gives her a vibrator to play with. He lets her enjoy thoughts of a guy's cock deep inside her pussy, making her moan from pleasure. He wants her to hold it close to her cunt, glad to see her obey and flinch from the buzzing. He pulls out another vibrator and teases her suckable nipples and tight asshole. Every time he says "Bam!", the fucking in her mind gets harder, faster, and deeper. Her master believes she's ready for a real cock. He's happy to lend his, making her walk around like zombie before she does. Of course, he makes her beg for it. He loves when his slaves beg for his dick. He then shoves it down her throat. Deep throating helps pull out more cum for his infamous face blast.
Latest BrainWashedTeens.com Updates